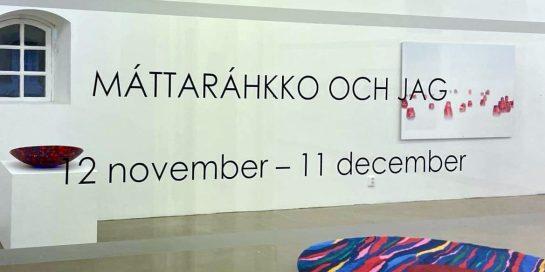 The exhibition Máttaráhkko and me presents six female artists from Sápmi: Laila Brandsfjell, Silje Figenschou Thoresen, Monica L Edmondson, Marja Helander, Katarina Spik Skum and Liselotte Wajstedt. With different artistic expressions such as photography, video, film, installation, craft and drawing, the subject of heritage is explored with gentleness and presence.
Máttaráhkko is the archetype of the mother. In Sami mythology the progenitress Máttaráhkko and her three daughters Sáráhkká, Uksáhkká och Juoksáhkká are four goddesses, who play important roles as protectors. Further more Máttaráhkko is a foremother in a wider sense; a woman from former generations, like a grandmothers mother or one of her sisters. Women have always been, and still are, a fundament within the Sami culture.
In Máttaráhkko and me the light is turned towards the Sami woman who continuously carries and shares her knowledge through both crafts and storytelling. Stories travel from generations and creates bonds through a living everchanging heritage. Generations of women have manifested their knowledge in the Sami craft, duodji, which has an important role both functionally and as a vessel of tradition. The objects embodies their own tales; telling something about how the nomadic way of life demands functionality but also what it means to coexist with nature and its material resources.
The exhibition brings forth form and space as containers for these tales. The material has its innate language and can be charged by its heritage, migrations, former use and tradition attached to it. Even the working process can help charging these objects with meaning. The body of work can give us a sense of what it means to be a contemporary Sami artist and at the same time be connected to former generations artistic expressions.
Máttaráhkko and me explores the conditions of being an artist within both a Sami and a Nordic context since Sápmi covers Norway, Finland, Sweden and Russia. The Sami people is the only acknowledged indigenous people in Europe and one of five national minorities in Sweden.